WMCT Career Development Award 2012 winner
Thursday, February 27, 2014, 1:30 PM
Walter Hall, University of Toronto
80 Queen's Park (Museum Subway Station)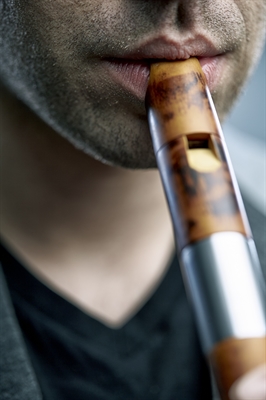 Giuseppe Sammartini – Concerto in F Major
Johann Sebastian Bach – Trio Sonata No. 5 in F Major, BWV 529
Markus Zahnhausen – Flauto dolce solo
Antonio Vivaldi – Concerto in C Minor, RV 441
Ryōhei Hirose – Meditation
Georg Philipp Telemann – Quadro in G Minor, TWV 43/G4
Antonio Vivaldi – Concerto in E Minor, RV 445
Dorothée Hahne – Commentari III
Vincent Lauzer, Blockflöte
Tanya Laperrière, Barockvioline
Chloe Meyers, Barockvioline
Margaret Little,  Barockviola
Mélisande Corriveau, Barockcello
Mylène Bélanger, Cembalo
Vincent Lauzer, 2012 der Career Development AwardPreisträger des Frauen-Musical Club of Toronto, präsentiert ein innovatives Programm mit breitgefächertes Repertoire einschließlich der verschiedenen Mitglieder der Blockföten Familie vom Sopranino bis zum nur selten zu hörendem Bass.
Wirklich ein erstrahlender Stern, 2012 gewann Vincent Lauzer mit dem ersten Preis bei der Canadian Music Competition den Trittsteine ​​Wettbewerb und erhielt den Namen Breakthrough Artist of the Year von Quebec Opus Awards. Vincent Lauzer studierte bei Matthias Maute an der McGill University um daranach außerordentliche sechs erste Preise in den National Finals der Canadian Music Competition zu gewinnen. Neben seiner Arbeit mit dem Recorder Quintett Flûte Alors! und dem Ensemble Recordare, konzertiert Vincent Lauzer in der Konzertreihe Clavecin en Concert und mit den Ensembles Les Idées Heureuses und La Bande Montréal Barock. Er gab ein Konzert für die CBC / McGill Young Artists Series und trat als Solist beim Boston Early Music Festival mit dem McGill Baroque Orchestra und mit dem Early Music America Festival Ensemble auf.
Das Career Development Award ist ein Projekt des Women-Musical Club of Toronto in Zusammenarbeit mit CBC Radio Music und Espace Musique de Radio-Canada, und wird von der Women-Musical Club of Toronto Stiftung finanziert.
Konzert Sponsor: Women's Musical Club of Toronto Stiftung
Video: Vincent Lauzer à la flûte à bec et Mark Edwards au clavecin – Maison de la Musique Sorel-Tracy