WMCT Career Development Award 2012 winner
Thursday, February 27, 2014, 1:30 PM
Walter Hall, University of Toronto
80 Queen's Park (Museum Subway Station)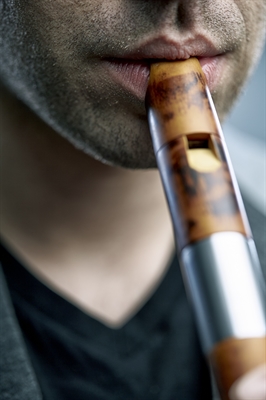 Programme:
Giuseppe Sammartini – Concerto in F Major
Johann Sebastian Bach – Trio Sonata No. 5 in F Major, BWV 529
Markus Zahnhausen – Flauto dolce solo
Antonio Vivaldi – Concerto in C Minor, RV 441
Ryōhei Hirose– Meditation
Georg Philipp Telemann – Quadro in G Minor, TWV 43/G4
Antonio Vivaldi – Concerto in E Minor, RV 445
Vincent Lauzer, recorder

Tanya Laperrière, Barockvioline
Chloe Meyers, Barockvioline
Margaret Little,  Barockviola
Mélisande Corriveau, Barockcello
Mylène Bélanger, Cembalo
Vincent Lauzer, winner of the Women's Musical Club of Toronto's 2012 Career Development Award, presents an innovative programme of wide-ranging repertoire including various members of the recorder family from the sopranino to the rarely heard bass.
Truly a rising star, in 2012 Vincent Lauzer won first prize at the Canadian Music Competition's Stepping Stone competition and was named Breakthrough Artist of the Year by Quebec's Opus Awards. Vincent Lauzer studied with Matthias Maute at McGill University and went on to win an extraordinary six first prizes during the National Finals of the Canadian Music Competition. In addition to his work with the recorder quintet Flûte Alors! and the ensemble Recordare, Vincent Lauzer recently performed in the concert series Clavecin en Concert and with the ensembles Les Idées Heureuses and La Bande Montréal Baroque. He gave a recital for the CBC/McGill Young Artists Series and participated in the Boston Early Music Festival where he appeared as a soloist with the McGill Baroque Orchestra and with the Early Music America Festival Ensemble.
Vincent Lauzer is joined by Tanya LaPerrière, baroque violin, Chloe Meyers, baroque violin, Mylène Bélanger, harpsichord, and a welcome series return engagement with Margaret Little, baroque viola, and Mélisande Corriveau, baroque cello.
The Career Development Award is a project of the Women's Musical Club of Toronto, in partnership with CBC Radio Music and Espace Musique de Radio- Canada, and is funded by the Women's Musical Club of Toronto Foundation.
Concert Sponsor: Women's Musical Club of Toronto Foundation
Videos:
Vincent Lauzer à la flûte à bec et Mark Edwards au clavecin – Maison de la Musique Sorel-Tracy