3. September 2011
16:00
bis
16:45
.
.
.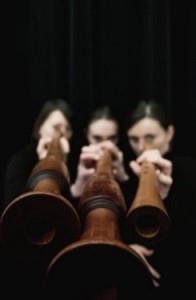 The recorder ensemble Trio aXolot from Amsterdam playing music from Dorothée Hahne, Aliona Yurtsevich, Thorsten Töpp and Pèter Köszeghy.
Performers:
Trio aXolot: Yoshiko Klein | Miako Klein | Anna Stegmann [recorder]
Dorothée Hahne [live electronics]
European Recorder Players Society – ERPS
Venue: Zurich University of the Arts
The international recorder Biennale is a meeting of recorder players from all over Europe. At this festival recorder players from different backgrounds, students, specialists on recorder making, exhibitors, concert goers and music lovers get to meet each other. The Biennale is a great opportunity to get new ideas and impulses, take part in discussions and exchange experiences. Previous Biennales have been hold at Essen, Amsterdam, Wien and Bremen.