Archive of posts tagged Trio aXoloT
A little teaser of aXolots interdisciplinary concert program "The dark side of Venus".
Music: "Interferences of Inner Voices" by Dorothée Hahne
Video: Marjolijn Zwakman
set 1: Verantwoord Vet
Verantwoord Vet is free-improv live cinema. Drawing a surreal and nightmarish vision of our overly consuming society. Waste material and found objects are used to produce an improvised movie accompanied by improvised soundscapes, giving the performance an apocalyptic edge. Christoph Scherbaum , Tim Coehoorn – guitar / electronics. Krista Burger – live VJ.
set 2: aXolot
A
s evolutionary and adaptable as our ancient-futuristic namesake. With visual art as an integral part of our collective, we produce performances as a full interdisciplinary whole, including live electronics and film. Though looking to the future, we also have deep roots in the far past; performing medieval and renaissance consort music in a classical early music format. With: Kim-José Bode, Dodo Kis, Sarah Jeffery (recorders); Marjolijn Zwakman (visuals).
Entrance: 6 euro | www.ot301.nl | This Event on facebook
10. April 2012
20:30
bis
22:00
Trio aXolot will perform on the 10th of april in the Badcuyp as part of the Karnatic Lab. We will play a varied set of contemporary and world music of our new theatrical program "aXolot is the dark side of venus" including works by Dorothée Hahne, Aliona Yurtsevich, Ned McGowan…
30. Juni 2011
19:00
bis
20:00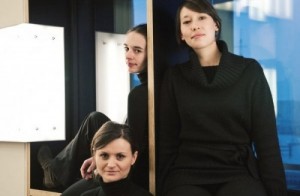 Am 2. Juli 2011 gastiert das Blockflöten ensemble Trio aXoloT beim Traumzeit Festival in der Duisburger Kraftzentrale mit seinem Programm "Grenzklänge –  der Klang der Zeit". Als Vorgeschmack sendet der Kulturspiegel eine Wiederholung der  Sendung vom Januar 2011 mit der Uraufführung des Programms in Münster:
Die 3 Musikerinnen, die sich während Ihres Studiums in Amsterdam kennenlernten, widmen sich seit 2007 als Ensemble der Aufführung von Alter als auch Neuer Musik. In enger Zusammenarbeit mit Komponisten und Komponistinnen sind seitdem mehrere Werke für die Triobesetzung entstanden. Zu Hören gibt es im Kulturspiegel Aufnahmen aus dem Repertoire des Trios als auch Livemitschnitte aus Ihrem neuen Konzertprogramm "Grenzklänge – der Klang der Zeit", das am 21. Januar 2011 in Münster mit der Uraufführung der Auftragskomposition "Interferences of inner voices" von Dorothée Hahne eine erfolgreiche Premiere feiern konnte. Continue reading »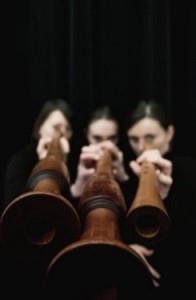 Das Blockflöten Ensemble Trio aXolot aus Amsterdam mit Werken von Dorothée Hahne, Aliona Yurtsevich, Stefan Thomas
Ausführende: Trio aXolot: José Bode | Miako Klein | Anna Stegmann [Blockflöten] | Dorothée Hahne [Live-Elektronik]
Programm:
Dorothée Hahne (*1966): "Interferences of inner voices" für 3 Instrumente & Live-Elektronik
Hildegard von Bingen (1098-1179): Bearbeitungen Trio aXolot
Anonymus (spätes 13. Jahrhundert): Beata Viscera / Ave Mundi Rosa
Aliona Yurtsevich (*1970): TREE-study VII für Blockflötentrio und 6 Kanal Elektronik (2010 Continue reading »
3. September 2011
16:00
bis
16:45
.
.
.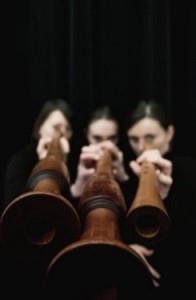 The recorder ensemble Trio aXolot from Amsterdam playing music from Dorothée Hahne, Aliona Yurtsevich, Thorsten Töpp and Pèter Köszeghy.
Performers:
Trio aXolot: Yoshiko Klein | Miako Klein | Anna Stegmann [recorder]
Dorothée Hahne [live electronics]
European Recorder Players Society – ERPS
Venue: Zurich University of the Arts
27. Januar 2011
19:00
bis
20:00
22:00
bis
23:00
3. Februar 2011
21:00
bis
22:00
24. Februar 2011
19:00
bis
20:00
22:00
bis
23:00