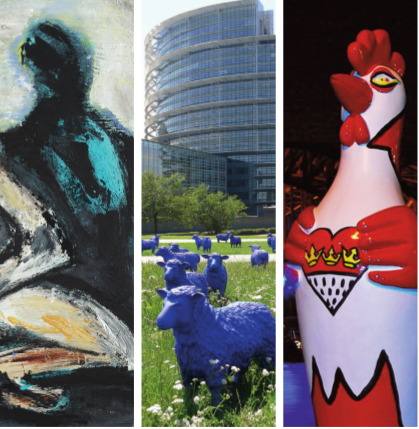 Bertamaria Reetz
Benefit – Art – Exibition
Vernissage: Wednesday, March 21th 2018, 7:30 p.m.
7:15 Dorothée Hahne: Alphorn & live electronic
Opening speech: Prof. Dr. Irene Daum
Duo JanDi: Popular Cassics & Jazz
Exibition dates: until Wednesday April 18th, 2018
Admission free!
Part of the art sale proceeds is for social purposes.
Culture church east, Kopernikusstr. 32/34, 51065 Cologne – Buchforst
www.kulturkirche-ost.de Info Tel. +49(0)221-20112242
Bertamaria Reetz studied painting at the Kunstakademie Duesseldorf from 1986 to 1994 and exhibited her works in Germany and abroad. She is represented in numerous public and private collections.
"Amazed, wild and groping, I have put aside many things to do what stays" Bertamaria Reetz
Paintings and sculptures, painted and painted like the herds of peace of the blue sheep and the "jecken Höhner vun Kölle"
Opening hours: Tuesday to Saturday from 5 to 8 p.m. and by appointment +49(0)162 – 2336701