Yesterday – Today – Tomorrow [6/2021]
for Organ / with obligatory alto recorder

Composition commission German Music Council
Organist: Carlo Maria Barile, recording from February 27, 2022.
University for Catholic Church Music & Music Education Regensburg
Published by Carus-Verlag: Sammlung Carus 18.220/00, ISBN 978-3-89948-424-3, ISMN M-007-29444-1 160 pages, DIN A4 landscape, paperback and as Ebook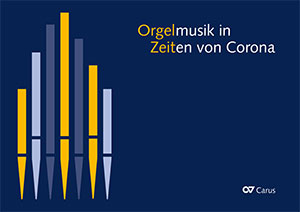 "Born in the Rhineland, Dorothée Hahne is musically extremely multilingual. Her extensive oeuvre ranges from jazz to electronic music to works for recorder player Dorothee Oberlinger, for example. Only for the organ has she not yet written – although she was already addicted to its sound as a child, at the side of her father Rudolf Hahne, who plays the organ masterfully. His wish that she compose something for organ was not fulfilled during his lifetime. Thanks to the organ project of the Music Council, however, Hahne was now able to dedicate her piece "Yesterday – Today – Tomorrow" to her father posthumously.
Her work revolves entirely around the repetitive rituals and ordinances used to respond to the pandemic situation. Every day, one deals with the incidence figures. Every day one hopes that everyday life will finally become more relaxed again. And "the next day, everything starts all over again", says Dorothée Hahne, who herself had to suffer through a post-Long Covid phase. This eternal everyday cycle is now also reflected in the character of "Yesterday – Today – Tomorrow", which is based on minimal music. At the same time, Hahne wants to achieve a mood with the gentle flow, coloured with so many influences from jazz and tango, which gives one "courage, strength and hope" in these times dominated by Corona. And Hahne's lines, which she has placed alongside "Yesterday – Today – Tomorrow" , also fit in with this:"(Guido Fischer)
"Turning in circles
And still
Steps on the spot
In small steps
Focus in detail
Emotional broadside
Between hope and despair
Only love can hold you
Da Capo!"
Project "Organ Music in Times of Corona
The German Music Council, together with the German Bishops' Conference and the Evangelical Church in Germany, is carrying out the project "Organ Music in Times of Corona." The project forms a contribution to the "Year of the Organ," which the state music councils have proclaimed for 2021. As part of the project, 17 compositions for organ were created that artistically reflect the Corona era.
In the fall of 2021, these organ works will be heard in numerous concerts and church services. In this way, musical life will be actively promoted and listeners will be encouraged to engage with the pandemic experience. The project will conclude with a finissage concert on November 21, 2021, at which all 17 compositions will be performed together. The project is funded by the Federal Commissioner for Culture and the Media.
The German Music Council is publishing the 17 compositions in an anthology with Carus-Verlag. Co-editors are Prof. Richard Mailänder and LKMD Kord Michaelis. Organists working in Germany can obtain an online or print edition of the Organ Book free of charge from the German Music Council if they perform pieces from the Organ Book in a concert or service within the project "Organ Music in Times of Corona" in the fall of 2021. Here is more information!
Performances: