26. Oktober 2018
19:00
bis
20:30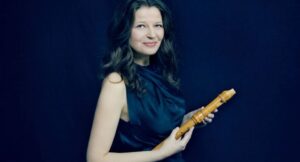 The world-famous recorder virtuoso, Professor Dorothee Oberlinger, will perform at the Finnish Recorder Society's 10th anniversary concert. His concert program covers works from the Middle Ages to the present day, as composers e.g. Hildegard Von Bingen, J. S. Bach, Luciano Berio and Dorothee Hahne.
In addition to the professorship, Oberlinger is the director of the Arolser Barock-Festspiele festival. He has made twenty recordings of early music and also commissioned and premiered a lot of contemporary music. He has been a sought-after guest at festivals around the world, on competition boards and as an educator. He also leads the Ensemble 1700 he founded.
The concert is organized in cooperation with the Sibelius Academy of the University of the Arts Helsinki. The concert is supported by the Art Promotion Center.
Tickets at the door in cash or by card 20/10 eur (students, seniors, conscripts) and in advance from the Holvi online store: https://holvi.com/shop/cafebarocksuomi/
German Church, Unioninkatu 1, Helsinki 26. Oktober 2018